When:
October 23, 2017 @ 12:00 pm – 6:00 pm
2017-10-23T12:00:00-04:00
2017-10-23T18:00:00-04:00
Where:
Wychwood Theatre, Artscape Wychwood Barns
601 Christie St #176
Toronto, ON M6G 4C6
Canada

Contact:
Siobhan Richardson
647-225-4022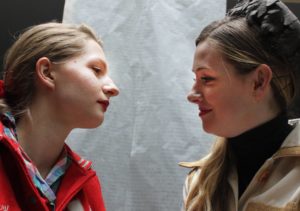 INTRO TO INTIMACY FOR STAGE AND SCREEN
Contact Us to Register
In this workshop, actors learn specific techniques for accessing their vulnerability in a dramatic context, resulting in powerful chemistry between characters without compromising personal boundaries.  Focus is on subtle and specific details in choreography, and on acting exercises to keep partners connected physically and emotionally.  It's an exploration of intimacy within a dramatic context for the purpose of telling the story of the scene. We'll also touch on how to approach preparing for scenes of intimacy in rehearsal, consent, boundaries, your rights (including union rules), and psychological safety.
This is not just kissing or sex scenes. The principles can include the intimacy between parents and children, between dear friends, and can also apply to scenes of sexual violence.
Topics include:
Instant Chemistry: simple acting exercises to facilitate mutual trust and to create chemistry with any scene partner
The Pillars: guidelines for approaching scenes of Intimacy, including script work, communication of personal boundaries, consent, and other professional etiquette practices
Your Instrument: psychological safety, physical work and emotional preparation for more effective scenes of intimacy
The Workplace: Best practices and recommended working conditions
Your Unions: CTA (stage) and IPA (film) rules regarding intimacy and nudity.
Touching (handshakes, handholding, hugging) through guided contact improv is part of the course. Kissing is not required. While the goal is to explore emotional and physical intimacy, the core concept of this work is Safety, for the facilitation of safe exploration. All touching is consensual, and participants are always invited to sit out and watch, should they feel uncomfortable or triggered.
Oftentimes actors are told to "just figure it out" without an outside eye, which can lead to dangerous situations where an actor may unwittingly cross their own physical or psychological boundaries, and then the work may affect their personal lives. Intimacy For Stage and Screen has been enthusiastically received as a practice which empowers actors to respect their own boundaries, while improving the quality and clarity of scenes of intimacy. Intimacy For The Stage workshops and the assistance of an Intimacy Director/Choreographer creates better storytelling, and is an important step forwards in supporting actors' safety and rights.
Cost: $150.00
Equity Discount: $120.00
Contact Us to Register
Instructors: Siobhan Richardson and Jade Elliott, the only Intimacy Directors in Canada recognized by Tonia Sina, creator of the Intimacy for the Stage method.
Siobhan Richardson is an Intimacy Director, and co-founder of Intimacy Directors International. Siobhan is quickly building an impressive resume in this field, including several directing and teaching credits across Canada, the USA with inquiries from across Europe. Siobhan is also an actor and fight director.